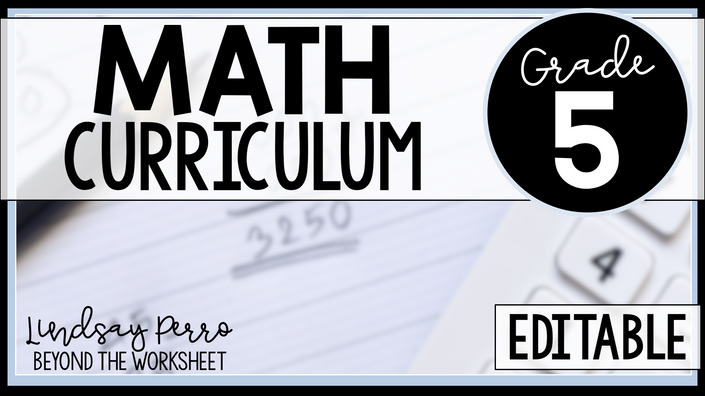 5th Grade Math Curriculum
EDITABLE 5th Grade Math Curriculum! PAYMENT PLANS AVAILABLE!
THIS RESOURCE IS NO LONGER AVAILABLE ON THIS WEBSITE. IF YOU'D LIKE TO PURCHASE, PLEASE GO HERE!

Every single unit includes pacing guides, a detailed pacing calendar, teaching tips with misunderstandings and talking points, warm ups, notes, worksheets and assessments. Activities are not included in this curriculum. This curriculum is offered as an add on to my 5th Grade Math Curriculum Resources Mega Bundle. There is no overlap between this and the Curriculum Resources Mega Bundle.
Please Note :
It is impossible to create a "one size fits all" curriculum. As with any textbook or workbook series, you may find that you need to supplement some skills and/or activities. I researched curriculums from districts across the US and came up with what I feel to be a pretty good fit! Please be sure to check out the preview carefully to see exactly what skills and topics are covered in each individual unit.
Each unit includes pacing guides, warm ups, notes, worksheets and assessments. All completion dates are currently estimates and are subject to change.
►Unit 1 – Place Value
►Unit 2 – Operations with Whole Numbers
►Unit 3 – Decimal Operations
►Unit 4 – Fraction Concepts
►Unit 5 – Addition and Subtraction of Fractions
►Unit 6 – Multiplication and Division of Fractions
►Unit 7 – Graphing and the Coordinate Plane
►Unit 8 – Geometry and Volume

"I LOVE THIS! I have always loved your stuff as a 6th grade teacher and this year when I moved to 5th grade, this was my first stop for resources. My students are loving it and I have been able to adjust/adapt for interactive notebooks. It's AWESOME!" - Emily (September 2017)
"Have used Grade 6 and loved it. Grade 5 is such a pivotal year, looking forward to doing it right with this curriculum." - Anon. (June 2017)

© Lindsay Perro. Please note - this resource is for use by one teacher only. You can download anything you'd like and use it in your own classroom. If a co-worker loves what you have, please give them the link to purchase their own membership. Additional teachers must purchase their own membership. You have your own unique login information which can be monitored to ensure copyright isn't being violated.You are not able to upload these products onto any website or sharing drive at any point - UNLESS the website is your own classroom site, for student use only and it is password protected.
If you are a coach, principal or district and you are interested in transferable license to cover teacher turnover or paying with a PO, please email me!
About Payment Plans :
If you purchase using a payment plan and your payment fails at any point you will immediately lose access to the resources. Please ensure your payment information stays up to date.

Course Curriculum
THIS RESOURCE HAS MOVED! PLEASE FOLLOW THE INSTRUCTIONS BELOW.
Available in days
days after you purchase
Frequently Asked Questions
What is the refund policy?
Due to the nature of these resources, there is no refund available. Please read everything carefully before purchasing. If you would like clarification on anything before purchase, please email me at
[email protected]
What happens when I purchase a membership?
Once you purchase a membership to this site, you are granted a single, personal use license to each resource included within the website. As long as you are a paying member of the site, you will have access to these resources. If you cancel your membership before the balance is paid in full (for those on a payment plan), you will forfeit your license and access to all resources.
This resource is not available for purchase.