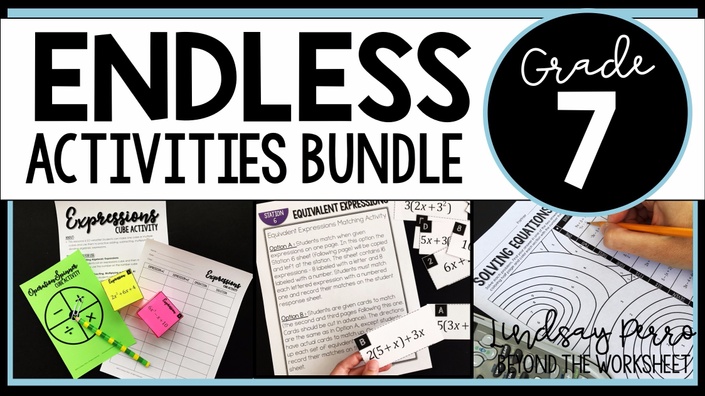 7th Grade Math Curriculum Resources - A Growing Collection of Resources
Growing collection of supplemental 7th Grade Math activities and resources! PAYMENT PLANS AVAILABLE!
This resource is no longer available on this website. Please GO HERE to purchase on the new site!

Membership to this website grants you a single, personal-use license to all resources included. Every resource is aligned to common core and the average 7th grade math curriculum. Resources are constantly added, updated and changed. This is a growing resource. Currently there are 130 different supplemental activities included.


No, this is not a written curriculum. All resources are to be used to supplement your own curriculum. If you would like to purchase my 7th Grade Math Curriculum, you can do so by CLICKING HERE.


The value of this bundle will increase as more resources are added. If you purchase a membership to this site, you will be able to get access to any future additions at no charge. Since these resources are digital downloads, I am able to update them as necessary to reflect major changes in standards and curriculum needs.


This bundle is so jam-packed with resources I don't think I can use them all!! The activities complement the 7th grade curriculum perfectly, which I also purchased. This has truly been a life saver for me. Thank You! - Beth (February 2017)
Jam-packed with every resource that you can possibly think of. This is going to be my THIRD 7th Grade math bundle that I've purchased and I can't tell you how disappointed I am that it was not my first choice. This is my first year teaching math and I am really struggling, but I'm sure my students will enjoy the activities as I will finally be able to teach properly since I also purchased your curriculum. - Stephanie (August 2016)
This is my first year teaching 7th grade math, coming from 4th grade. I researched several different mega bundles before deciding on this one. I am EXTREMELY glad I bought this. It was well worth the money. I love how everything is organized and the quality of the products is top notch. This is truly a life saver! Thank you very much for all the hard work put into this!!!! - Anonymous (August 2015)
This is an amazing resource! I'm so glad that I was finally able to purchase it after pondering the idea for a while. If you're on the fence about buying this resource, DO IT!! It is well worth your money. After trying many of Lindsay Perro's products in my 7th grade classroom, I bought the Mega Bundle. I'm so thankful I did because it looks like I won't be looking for any other resources any time soon. She has numerous activities and resources for every standard. The activities are so much more than a boring worksheet, too. She has put creativity into each resource. I CANNOT wait to try all of them!! - Meagan (June 2015)

© Lindsay Perro. Please note - this resource is for use by one teacher only. You can download anything you'd like and use it in your own classroom. If a co-worker loves what you have, please give them the link to purchase their own membership. Additional teachers must purchase their own membership. You have your own unique login information which can be monitored to ensure copyright isn't being violated.You are not able to upload these products onto any website or sharing drive at any point - UNLESS the website is your own classroom site, for student use only and it is password protected.
If you are a coach, principal or district and you are interested in transferable license to cover teacher turnover or paying with a PO, please email me!
About Payment Plans :
If you purchase using a payment plan and your payment fails at any point you will immediately lose access to the resources. Please ensure your payment information stays up to date.

Course Curriculum
THIS RESOURCE HAS MOVED. PLEASE FOLLOW THE INSTRUCTIONS BELOW!
Available in days
days after you purchase
Frequently Asked Questions
What happens when I purchase a membership?
Once you purchase a membership to this site, you are granted a single, personal use license to each resource included within the website. As long as you are a paying member of the site, you will have access to these resources. If you cancel your membership before the balance is paid in full (for those on a payment plan), you will forfeit your license and access to all resources.
What is the refund policy?
Due to the nature of these resources, there is no refund available. Please read everything carefully before purchasing. If you would like clarification on anything before purchase, please email me at
[email protected]
This resource is not available for purchase.